Comprehensive Overview of Depth Cameras
What Is a Depth Camera?
There are different types of 3D sensors, that can differ between different methods to acquire world data or how that data is processed in order to represent it in a convenient way. These sensors can vary in many ways such as acquisition method, resolution, range, etc. This page entails a brief overview of the different 3D sensor types and a small survey of what sensors are currently available.
João Alves, Aivero
Last updated:
Know a camera that should be included? Let us know using this form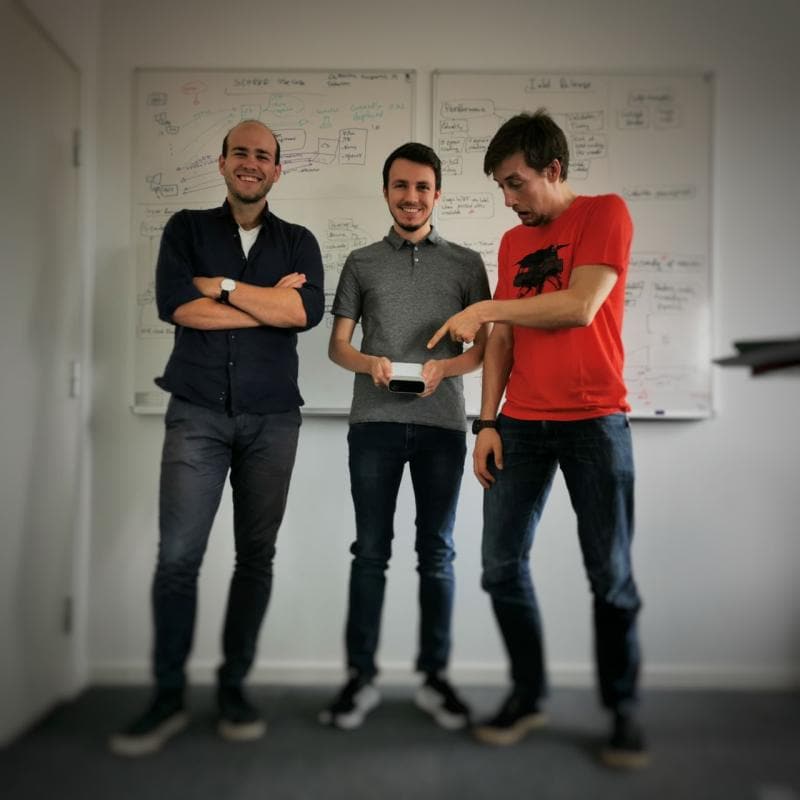 What are depth cameras used for?
Depth-sensing cameras enable machines to perceive the environment in three dimensions. Because of the richer information the depth cameras provide, they have gained importance in applications such as vision-guided robotics, inspection and monitoring. 3D data is less susceptible to environmental disturbances such as changing light conditions. Thus, machines become more reliable and precise when performing tasks, such as picking up an object and placing it elsewhere.
Curious About Depth Video Compression Techniques?
Depth Camera Sensor Types
Depth Cameras typically detect depth using Stereo Sensors, Time-of-Flight calculations, Structured Light, or LiDAR.
Stereo sensors
Stereo sensors try to mimic human vision by using two cameras facing the scene with some distance between them (baseline, see Figure 1). The images from these cameras are acquired and then used to perform visual feature (relevant visual information) extraction and matching to obtain a disparity map between the cameras' views.
The disparity information is inversely proportional to depth and can easily be used to obtain the depth map. This also means that some sensors of this type usually only work in feature-rich environments and encounter problems in featureless environments (e.g. a white wall). However, this type of sensor usually allows for greater depth image resolutions than other cameras.
These feature detection and matching computations are done onboard the camera, meaning they usually require more processing power than other methods. Also, the stereo working distance is limited by the baseline between the cameras as the error increases quadratically with objects' distance to the sensor. Usual applications entail both indoor and outdoor, feature-rich environments.
Time-of-Flight
Time of Flight (ToF) sensors flood the scene with light and calculate depth using each photon's time to return to the sensor. This means that each pixel relates to one beam of light projected by the device, which provides more data density, narrower shadows behind objects and more straightforward calibration (no stereo matching).
Since they use light projection, these sensors are sensitive to different types of surfaces, such as very reflective or very dark ones. In these cases, invalid data usually appears in the image. However, they are much more robust to low lighting or dim conditions than stereo sensors which depend on the scene lighting. These sensors can be used both indoors and outdoors.
Structured Light
Structured light (SL) sensors, on the other hand, use a known pattern projected by the IF sensor onto the scene. The way the pattern deforms is used to construct the depth map.
This type of sensor does not require an external light source and is mainly used in indoor environments due to its low robustness to sunlight since interference may occur with the projected light pattern.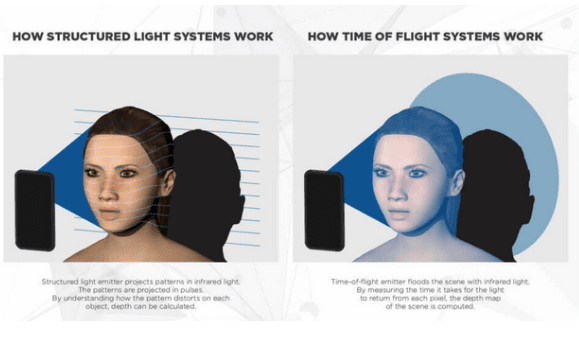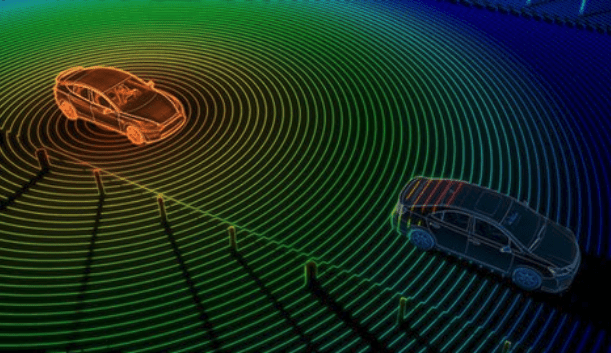 Light Detection Ranging
Similar to ToF but with scanning, light detection and ranging (LiDAR) sensors are more accurate than ToF since they use multiple IR pulses, whereas ToF sensors usually use one light pulse to obtain their image. By mapping the environment point-per-point instead of a burst of points (as in ToF), the overall noise for each point is reduced, producing more accurate results. Furthermore, LiDAR can usually obtain measurements at a greater distance than traditional ToF or Stereo sensors.
However, LiDAR sensors are usually more expensive than other 3D sensors and, since they perform scanning, can be affected by highly dynamic environments (motion blur).
List of Depth Cameras
3D vision camera for automation. Stereo vision, structured light, compact, versatile. Ideal for robot guidance.
List of Depth Cameras
3D vision camera for automation. Stereo vision, structured light, compact, versatile. Ideal for robot guidance.

Infrared depth camera for real-time interactions. Tracks gestures, supports gaming, voice control, and integrates with Unity3D.

High-resolution 3D imaging with millimeter accuracy. HDR mode, real-time streaming. Ideal for volume measurement, navigation, and object localization.

3D camera for precision imaging. Suitable for logistics, production. Robust design, adaptable for diverse scenarios.

Integrated sensor system. Combines stereo vision, LIDAR, IMU. Ideal for robotics and autonomous navigation.

3D camera for advanced computer vision. Excels in-depth mapping, and real-time processing. Ideal for AR and robotics.

3D stereo camera for depth sensing. With NIR capability is ideal for drones and machine vision. Compact with real-time IMU data.

Integrated RGB sensor for vivid 3D imagery and robust IP65/67 design. Ideal for logistics, robotics, and large-volume measurements.

Designed for challenging environments. Accurate detection, robust aluminum, flexible angles. Ideal for robotics, proximity tasks, and CAD integration.

3D camera for challenging environments. Ideal for robot arms and precise object detection. Lightweight and safety-optimized.

AI-based 3D cameras with structured light. Robust, accurate, fast capture. Ideal for robot guidance, part identification, and automation.

Industrial Depth Camera with broad FOV. IP66 rated, advanced stereo vision. Ideal for high-speed precision tasks.

Ideal for industrial automation. Robust design, adaptive lighting, precise positioning.

Industrial depth sensor. Time-of-flight tech, 8m range, IP67, 10 kHz frequency. Perfect for automation, robotics.

Close-range depth camera. Ideal for robotics, medical assessments, and gentle agricultural picking. Compact design.

Designed for robotics and AR. High-resolution, global shutter, detailed 3D mapping.

Wide FOV, global shutter. Perfect for robotics and AR. 10m range. Excels in low-light navigation.

Designed for autonomous robots. Enhanced depth, wide view, IR filter. Ideal for SLAM, tracking tasks.

Depth sensing with IMU. Wide view, global shutter. Ideal for SLAM, robotics, and AR.

Enhanced depth with IR filter, IMU integration. Ideal for dynamic robotics, drones, and high-speed depth tasks.

Advanced depth perception, dual sensors, 6m range. RGB integration, global shutters, robust design. Ideal for robotics, and multimedia.

Long-range with IR filter. Ideal for factory automation, logistics. Wide FOV, protective glass.

3D camera, with IP65 protection, that offers a wide FOV and IMU. Ideal for dynamic robotics and drones, especially outdoors.

Close-range, 25cm minimum distance, 100°x75° FOV. Ideal for kiosks, ATMs. Global shutters, RGB, IMU integrated.

Time of Flight 3D camera for precise depth measurement. Ideal for automation and robotics. Efficient and versatile.

3D camera for industry. DepthSense sensor, IP67, precise, noise-reduced. Ideal for robotics, inspection.

Microsoft's AI device. Improved accuracy, versatile for healthcare, warehousing. Integrated with Azure capabilities.

Stereo vision depth camera with wide FOV. Ideal for drone navigation, logistics, and visual recognition. Rapid product implementation.

3D camera for real-time applications. Versatile, precise, IP67 rated. Ideal for SLAM, agriculture, and autonomous driving.

3D camera for real-time surrounding representation. Light-independent, accurate in challenging conditions. Ideal for robotics, AR, and industrial settings.